Drug dealing only 'cruel, inhumane' aspect of Canadian's sentencing
Share - WeChat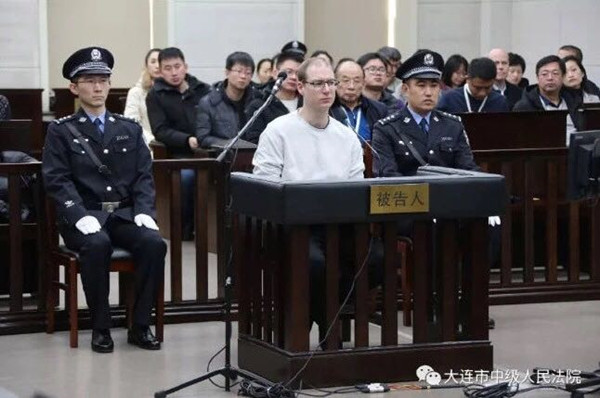 On Tuesday, hours after the Dalian Intermediate People's Court rejected convicted drug dealer and Canadian Robert Lloyd Schellenberg's appeal and affirmed his death sentence, Canadian foreign minister Marc Garneau delivered a statement calling it "cruel and inhumane".
What irony for Garneau to say such things about a just, fair sentence from a Chinese court. During the whole process, Schellenberg's rights were fully protected. The court hired two interpreters to remove all linguistic barriers, while officials from the Canadian embassy, local People's Congress members, as well as ordinary people participated as auditors. The whole judicial process could not have been more transparent.
All through his statement, Garneau repeated those words, without mentioning what crime his citizen had committed. According to the court ruling, Schellenberg was caught smuggling at least 222 kilos of methamphetamine.
According to the criminal law of China, those who produce, smuggle or transport 50 grams of methamphetamine could face the death penalty; Schellenberg was caught smuggling 4,440 times that amount. His sentence should not be surprising.
That case, like all drug-related cases, shows the firm determination of China to fight drug trafficking. Everybody who violates this law so flagrantly will receive their deserved penalty, no matter which country's citizenship they hold.
Canada, where cannabis is legal, might have its own viewpoints about drugs and drug dealing, but Schellenberg committed his crime in Chinese territory and he deserves to be punished by Chinese law. His being a Canadian and the legal status of cannabis in his country are no excuse for committing crimes in China. After all, even in Canada those who smuggle methamphetamine will be punished severely.
If there is something "cruel and inhumane" in Schellenberg's case, that must be his attitude toward Chinese people. The drugs he smuggled are enough to victimize tens of thousands, while the armed drug dealers on his smuggling line might attack Chinese police or innocent bystanders.
If Garneau cares about Canadian people's lives, he would be better served telling his people not to skirt the law, instead of demanding it to be bent to his country's will.
Most Viewed in 24 Hours
China Views