India plastics ban riles activists, producers alike
Share - WeChat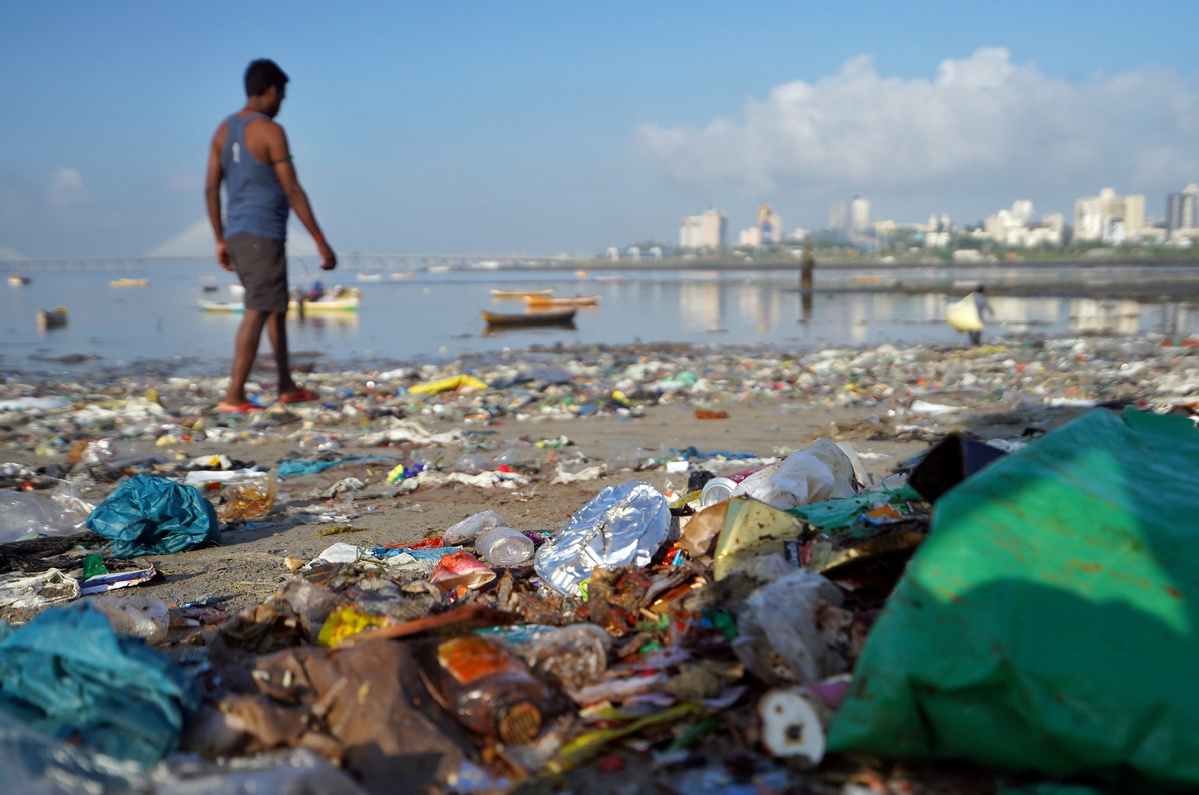 Plans by India to curb pollution from plastic waste have come under fire by environmentalists for not going far enough in cracking down on single-use items.
A ban on single-use plastic, or SUP, proposed from July 2022 is also raising the hackles of smaller producers of common items. They say the rules will leave the bigger manufacturers largely unscathed.
The ban takes aim at the manufacturing, importation, distribution, sale and use of certain single-use plastic items with "low utility and high littering potential", as set out by India's environment ministry.
A government committee has identified single-use items based on an index of their utility and environmental impact.
The first category of items proposed to be phased out are plastic sticks used in balloons, flags, candy, ice cream and earbuds, and a substance known as thermocol that is used in decorations, according to rules released on Aug 13.
Plates, cups, glasses, forks, spoons, knives and straws, among other items, of less than 100 microns thick will be removed in the second phase of the ban. The third category is for nonwoven bags of less than 240 microns thick that are widely used as shopping bags.
Junior Environment Minister Ashwini Kumar Choubey told Parliament recently that "a national-level task force has been constituted by the ministry for taking coordinated efforts to eliminate identified SUP by 2022".
With the announcement, India has joined a growing number of countries cracking down on single-use plastic.
But environmental activists complain that many items low on the utility index and high on environmental impact have been left out from the ban.
As for the opposition from industry, smaller enterprises that manufacture plastic items ranging from plastic cutlery to straws and earbuds claim that the rules are biased in favor of big manufacturers. Some of these businesses will go under, the ban's opponents say.
Questions have been raised as to why items such as milk packets, shampoo sachets and small PET(polyethylene terephthalate) bottles have been excluded from the ban.
Rajesh Mittal, of the plastic manufacturers and traders association in New Delhi, said the rules will benefit the big producers and that all types of single-use plastic should be targeted.
Incentives recommended
The government should help the industry switch to alternative products by offering incentives, the smaller manufacturers say. The rules will only push the smaller firms further into debt and result in job losses.
The list of plastic items banned from July 1, 2022, is dominated by articles that are manufactured and sold by small and medium-sized manufacturers and traders, said Atin Biswas, program director of municipal solid waste, at the Centre for Science and Environment, a think tank in New Delhi.
Biswas said large companies are responsible for nearly 45 to 50 percent of the single-use items that end up as waste.
The UN Environment Programme defines grocery bags, food packaging, bottles, straws and containers as single-use plastic. But those items have been left out of the Indian ban.
Avinash Tiwari, a shopkeeper who sells single-use plastic bags in New Delhi, said the ban on these items constitutes an attack on the middle class. "Any alternative to plastic bags costs twice as much to customers," Tiwari said.
India generates 26,000 metric tons of plastic waste every day and 9.46 million tons a year, according to a government agency.
The writer is a freelance journalist for China Daily.